Checklist
Bring valid driver's license
Bring insurance card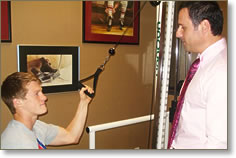 New Patients and First Time Visitors
Thank you and welcome to Dr. Matt's Wellness Center.
Your first visit may take over an hour depending on the severity and complexity of your situation. Please remember to bring your driver's license and insurance card.
You will first be required to fill out the necessary paperwork and a file will be created for you. You will then be escorted to an exam room where the doctor will begin his evaluation to assess and diagnose the problem. This gives the patient and doctor time to have a one on one discussion about any issues you are having with regards to your pain and care. An x-ray may or not be ordered at this time. Decisions to take x-rays are made on a case-by-case basis with the patient's informed consent. Following the evaluation, the doctor will outline his plan of action on how to correct the problem.
For any questions regarding the first visit please don't hesitate to call us at (972) 867-9900 and we will answer any questions or concerns you may have.
Again, welcome to Dr. Matt's Wellness Center where we will "adjust you back to good health!"